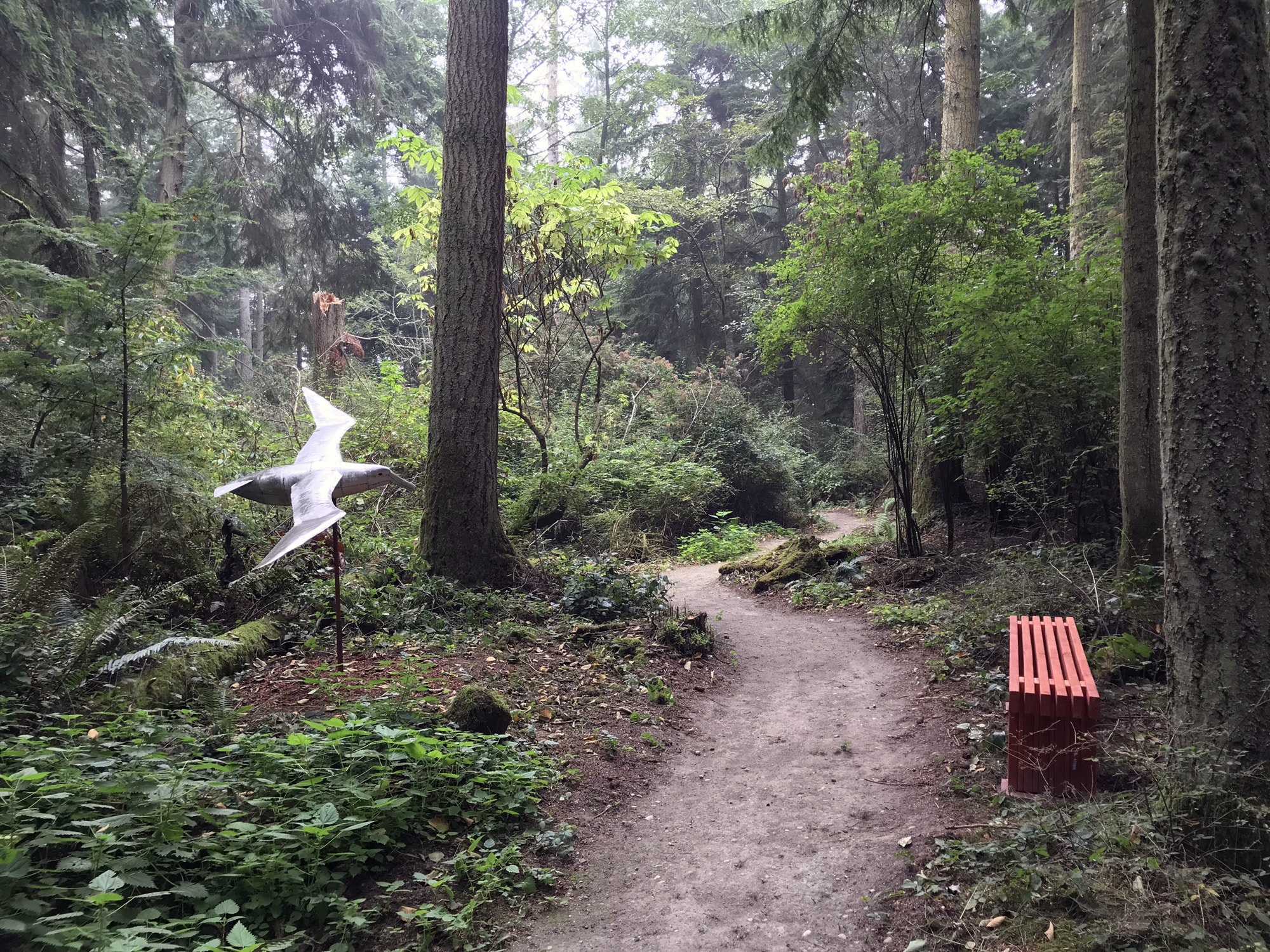 ENJOY A GUIDED TOUR
We occasionally offer a guided tour for interested art and nature lovers.  The Sculpture Forest will be open every day of the year from dawn to dusk, so you do not need to be on a guided tour to visit.  The tour encompasses both loop trails of the sculpture park, half of which is very level and the other half is on a gradual slope.  The tour is offered as a free service to the community.  Optional donations are gratefully accepted for park maintenance and growth; they can be provided onsite or via the Donate button further below.
DATES FOR THE NEXT GUIDED TOURS
OPENING WEEKEND
We are offering five guided tour time slots on opening weekend.  These guided tours are all full except one recent cancellation spot (below), though you can visit anytime on your own after we open and enjoy an interactive self-guided walking tour from your mobile phone. If you would like to be added to a waitlist in case someone changes their reservation, please contact us with the information described further below.  You can also be informed of future tour dates by following us on Facebook, Instagram, or our blog.
1:00 pm: FULL
3:00 pm: FULL
10:00 am: FULL
1:00 pm: FULL
3:00 pm: 1 spot OPEN
WHAT IS REQUIRED TO BE ON A TOUR?
For us to be able to provide you with public tours during the time of COVID-19, Island County has very specific regulations that we and you must abide by to participate.  All participants are required to wear a proper mask throughout the entire tour, separate 6 feet from other participants, provide names and contact info, and not bring extra people outside of the reservation (group size is strictly limited to 10 people total).  To reserve an open time slot or get on a waitlist, please send the following info to Contact@SculptureForest.org:
Your name + names of all other people in your party
Your email address + phone number.  All participants must be contactable afterwards if needed, so please provide contact info where all participants can be reached.
Preferred tour day and time
YOUR RESERVATION IS NOT COMPLETE UNTIL YOU RECEIVE AN EMAIL CONFIRMATION BACK FROM US: Please do not come for your tour unless you have received a written email from us confirming your date, time, and number of participants.
Be sure to notify us if your plans change: It is very important that you update us if your plans change and you will not be attending your reserved time.  There will be a tour guide onsite waiting for you, and your tour spot can be given to others who may be on a waitlist.
Inclement weather: If the weather is not conducive to an enjoyable outdoor walking tour, we will notify you the morning of the tour date and you will get first priority for a re-schedule date.
Special group tours: We occasionally offer custom tours for relevant public groups (schools, arts/environmental/community organizations, sculptors, etc.).  Contact us for more information.