SUMMARY
Casey Strelecki is a local Whidbey Island metal artist who works at Nichols Brothers boatyards during the day and works on his art from his shop on a farm in Oak Harbor.  He uses multiple welding and cutting techniques to create this functional art.  "Food For The Forest" has a double meaning: The snag tree provides food (insects) that the pileated woodpecker and other species rely upon, and the donation box provides the sustenance needed to keep the Sculpture Forest open and growing.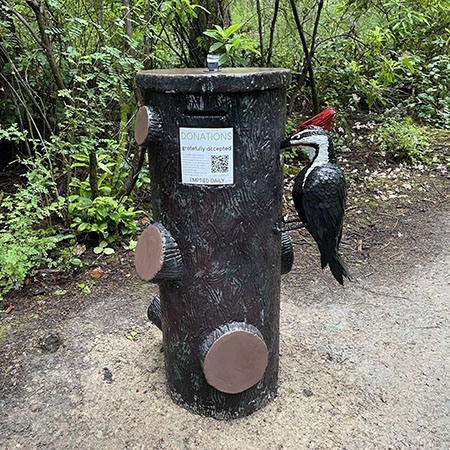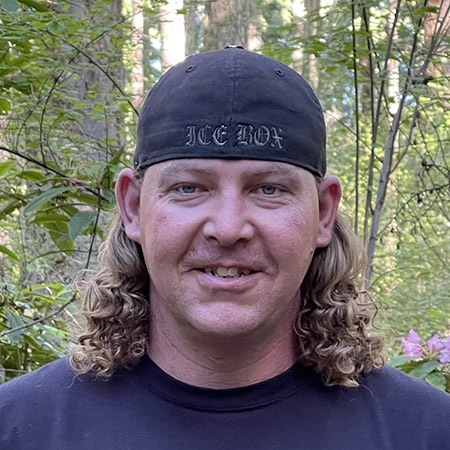 ABOUT THE SCULPTURE
"Food For The Forest" has a double meaning to its title: First, the decaying snag tree stump houses insects that serve as food for the pileated woodpecker and other local species.  Second, the functional donation box provides the needed financial sustenance to keep the Sculpture Forest open and growing for visitors.
Casey used various sizes of thick metal pipes to create the trunk and cut branches of the sculpture.  He used stick welding to create the detailed bark patterns that he initially drew on the trunk.  The pileated woodpecker is formed around a rebar internal skeleton.  All of the feathers were individually hand cut from sheet metal and welded in place.  The woodpecker's head details were created with individually placed wire feed beads and welded bailing wire.
ABOUT THE SCULPTOR
Casey Strelecki lives on a bucolic farm in Oak Harbor on the north end of Whidbey Island.  There he also has a building where he creates his metal sculptures.  During the day, he works as part of a team building large metal ships at Nichols Brothers Boat Builders in Freeland.  On evenings and weekends, he creates unique, finely crafted sculptures.
Casey went to school to learn the welding trade and then grew further into the artistic side of working with metal.  He started winning contests for his sculptural work while expanding his knowledge and interest in metal sculpture.
He enjoys both the challenge and the freedom of working with metal.  The material can be both additive and subtractive.  If he wants to change and improve something midstream, he does.  He approaches every sculpture as a new learning experience, learning about the details of his subject matter as well as how best to realistically recreate the subject in his own unique way.
CONTACT
The Artist Offers Other Custom Sculptures for Purchase and By Commission