SMALL LOCAL ORGANIZATION
READY TO GROW WITH THE COMMUNITY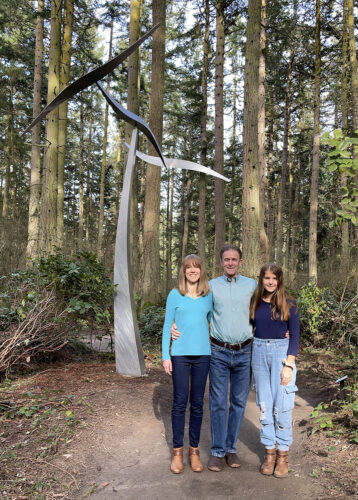 The Sculpture Forest was created by Scott Price in collaboration with other appreciated partners. He was inspired by personal travel experiences that blended an appreciation for the natural world with the joy of exploring and discovering sculpture within a forested habitat.
The park grew from that inception, including all aspects of conceptualization, design, implementation, maintenance, funding, and administration. When asked if he makes sculpture himself, he says "The Sculpture Forest itself is a sculpture on a large community scale. It is a sculpture where everyone gets to participate and collaborate in many different ways. The park can create uniquely positive experiences for the community, and everyone can have fun while doing it."
The Price family lives nearby in Coupeville. They are outdoorsy, enjoying travel, hiking, camping, mountain biking, sea kayaking, cross country skiing, and dabbling in everything from sailing to bungee jumping. If they can find an excuse to travel somewhere and see outdoor sculpture on the same trip, then bonus!
They initially started the Sculpture Forest on their own to be nimble in its initial creation. Since then, Price Sculpture Forest has transitioned to become a Washington nonprofit operating foundation and has obtained full Washington state nonprofit status and federal 501(c)(3) nonprofit status.  This nonprofit organizational structure will help ensure the longevity of the Sculpture Forest for everyone to enjoy into the future. It opens up opportunities for future government funding, foundation support, grants, and your tax deductible public donations to always keep the park alive and growing for you.