SUMMARY
Daniella Rubinovitz is a fine artist from Amsterdam, Netherlands where she creates public and private art commissions from her studio. "Flying Fish" was created taking visual cues from the shapes of local salmon and orca. The sculpture was drawn full size as a charcoal sketch in her studio, digitized, fabricated locally in Washington, and completed by a team who performed an extensive installation. The fish are on a proportional scale to the surrounding trees as if the trees are kelp or eelgrass and you are swimming underwater with them.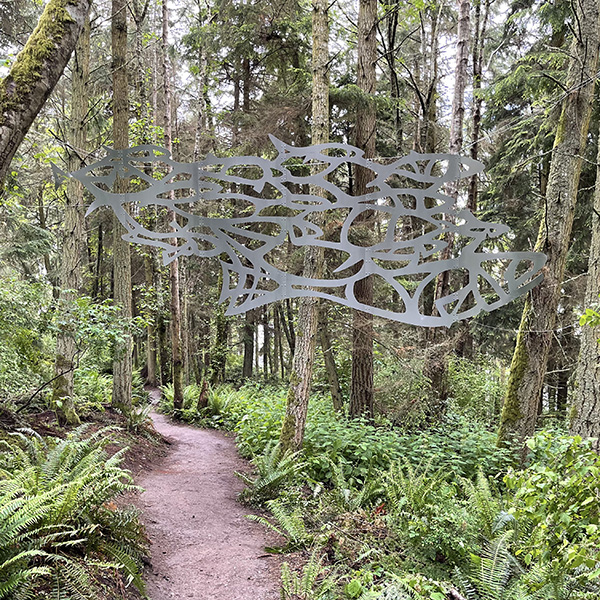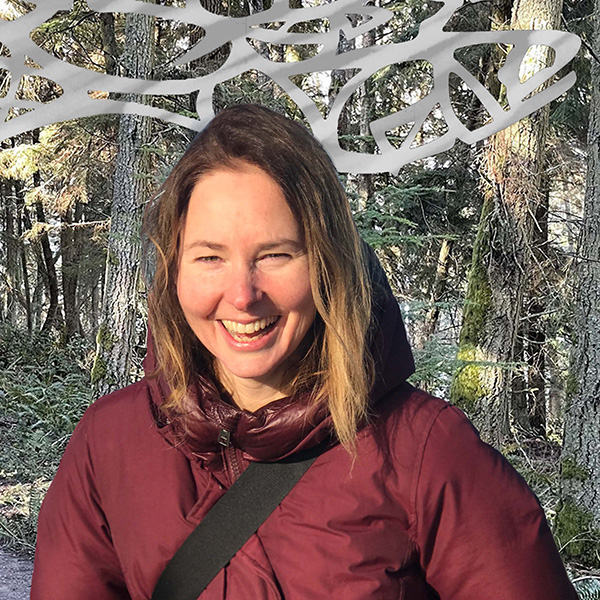 ABOUT THE SCULPTURE
"I used to dream of flying as if I were swimming." There was something evolutionary that made sense to Daniella, from fish to bird. It turns out that 'swimming' transformed into 'flying'. A curiosity was sparked. Fish now swim through the trees in this underwater forest.
Combining air and water create ever changing illusions. Flying Fish first appears as a large three-dimensional piece. As we walk underneath, it disappears into a line. The surface reflects and distorts the surroundings. The optical play from volume to line mimic these transformative qualities of air in water.
The forest metaphor, a sea of subconscious, holds the mysteries among the trees. There is more present than what we can see. This also plays in daily life.
Feel invited to experience what it's like to walk through this underwater world without additional breathing devices. Reflect on reality, evolution, time, and place as fins transform to wings.
Flying Fish was first created as a full-scale charcoal sketch at her studio in Amsterdam. It was then digitized and fine tuned in order to be fabricated and laser cut locally from large aluminum panels. These panels were treated and clear powder coated and shipped by truck. Then the sculpture was installed onsite by the team of local community volunteers at Price Sculpture Forest.
ABOUT THE SCULPTOR
Daniella Rubinovitz was born in Rotterdam, the Netherlands.  She is a degreed fine artist who now lives in Amsterdam, where she creates public and private art commissions from her studio.
She tells a story through line, color, and form. Daniella plays with metaphors that connect to stories of the past, present, and future. Her approach uses materials that best express each story. She aspires for art to be an approachable portal between people through the ages of time, all while incorporating humor and wit. You are welcomed to interact as you feel inspired.
Daniella's process brings memories up to the surface. As a prior art therapist, she believes this world is mysterious and holds answers. Bits of other realities become visible in her work. Answers appear in due time after observation.
Daniella leads each public art phase, from initial sketch to production and installation. Her technical industrial design skills are handy and offer an element of innovation.
CONTACT
This and Other Sculpture is Available to Purchase from the Artist