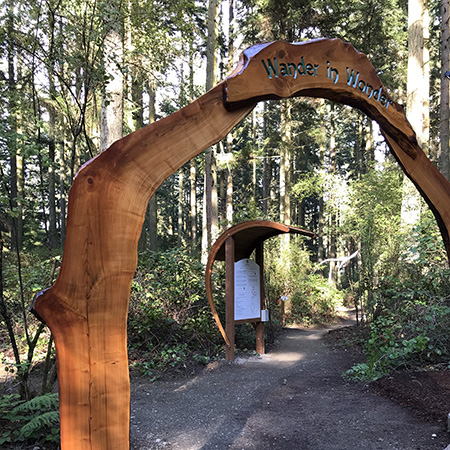 THE CLOSE OF YOUR SELF-GUIDED TOUR
Hopefully you enjoyed your journey through the Sculpture Forest and got lost in discovery of nature, art, and even yourself.  Perhaps you experienced both nature and whimsy, both habitat and creativity.
THE BEGINNING OF YOUR FUTURE STEPS
Consider your own creativity and how you can positively influence your own part of the world, either by preserving habitat or sharing the meaning of personal art.  Or both!
At the exit kiosk, there is a book where you can doodle, draw, write poetry, or share your own insights with everyone.  Particularly fun or creative entries will be shared with others on our website and social media pages so you can be a participant in addition to a visitor.
The Sculpture Forest changes every day with seasons, angle of the sun, weather, and mood.  We also occasionally bring in new sculpture, rotate sculpture, add new content to our self-guided tour, and have group events.  Like/follow our Facebook or Instagram pages to stay informed about new developments and even more reasons to visit again.  Or just come by anytime for a pleasant stroll.
We also love collaborating with volunteers of all types (especially tour docents and landscaping/trails), other sculptors and artists, and educational, arts, or environmental groups.  Reach out anytime if you are interested to collaborate in building this community experience together.
Enjoy your day, and enjoy your life!