SUMMARY
Pat McVay has been professionally sculpting wood for over four decades and lives in Clinton here on Whidbey Island.  He has public exhibits of his work throughout the West Coast.  "Heading Upstream" was carved from a fallen cedar tree and then a torch was used to highlight shapes while providing tonal variation.  Imagine that the trail is a stream rushing downhill and these salmon are returning to where they were born four years ago.  This bench is located here halfway up the hill so you can rest, as well.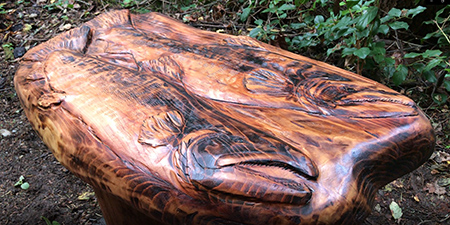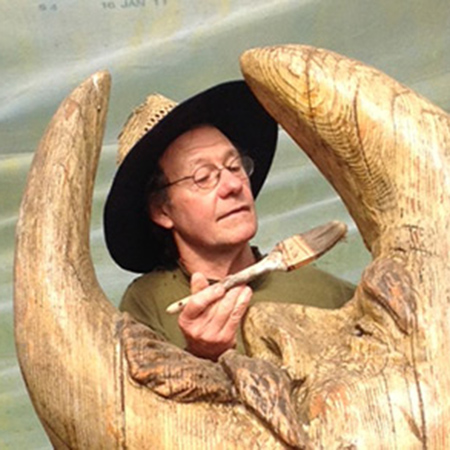 ABOUT THE SCULPTURE
This little bench is here for you the take a break and rest a bit as you head up hill.
Imagine that instead of a path, this is a rushing stream and you are a salmon going up this hill to the very spot that you were born four years ago. Your journey has taken you all of the way around the Pacific Ocean. You are tired but determined to reach your destiny. Only one in a thousand of you have survived and now you are ready to create the next generation!
This functional and aesthetic sculpture is crafted from a down cedar tree.  After carving the salmon, Pat used a torch to give depth and variation to the surfaces.
ABOUT THE SCULPTOR
Pat's history in the arts goes back 40 years to Paris, where he began his career by repairing and making furniture. Pat had a small shop, a few tools, and lots of paint used to hide mistakes. There was a blue period, a red period, and a white period.  Soon, people began asking him to create new furniture. Then came work in porcelain tile and, after moving to the Olympic Peninsula, his attraction to the natural forms of the forest led him into wood carving.
Currently, most of his work is large-scale carvings from already-down trees, using everything from a chain saw to fine chisels. His whimsical and even comical sense is often the basis for unique carvings of people and animals. Many of Pat's sculptures are visible in public spaces up and down the West Coast.
He was a founding member of the Northwest Stone Sculptors Association and the Cascade Wood Sculptors Guild. He shows his work at Music for the Eyes, a gallery in Langley here on Whidbey Island, and at other local galleries and spaces.
CONTACT THE ARTIST
This Sculpture is Available to Purchase