SUMMARY
Sue Taves is a professional stone sculptor who has been sculpting since 1994. She can be visited at her Freeland Art Studios here on Whidbey Island. "We Are Water" signifies that we are mostly comprised of water and our daily survival is dependent upon clean water. Abstract human hands are carved into the marble base, cupping the upper basalt waves that appear to move as light reflects off the undulating patterns. The upper basalt's back side is a natural, rough convex arc that signifies the planet, tying together Earth, water, and us.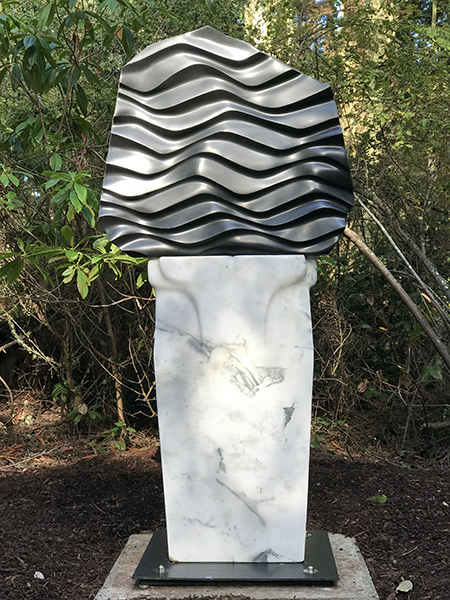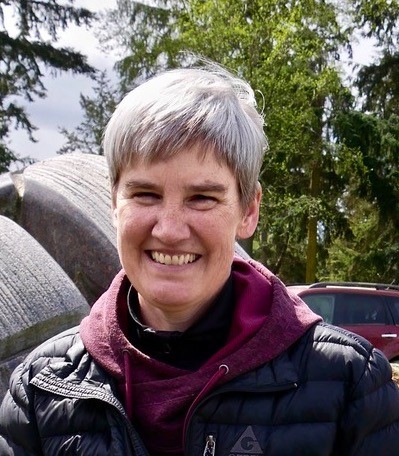 ABOUT THE SCULPTURE
This sculpture is from the "Waves" series that followed Sue's "Rain" and "Wind" series. "Waves" explores the repeating patterns of water and its fluidity. Sue enjoys capturing the movement of water in rigid stone and watching the stone appear to move as the light changes on the surface.
This sculpture is the first in this series to bring in imagery of a human element. Hands sculpted from marble lifting up from the ground support the end of a basalt column which is naturally broken on one side in a beautiful convex arc. This back side signifies our planet. The other side of the basalt is sculpted in repeating wave patterns. This front side plays with light and shadow and at times it seems like the waves are moving.
Humans are mostly comprised of water and our daily survival is dependent on having a clean supply of water. The importance of our interdependence cannot be overstated. It is critical that we act more responsibly to foster healthy interdependence. We are one, we ARE water.
ABOUT THE SCULPTOR
Sue believes that when we open ourselves to art and it touches us, we get an indefinable spark from the experience. This connection is why she creates sculpture. It starts as a creative dialog between her and the stone.  When the sculpture is finished, the communication continues with you.
When carving, she tries to capture the natural essence of the stone in the choice of design.  She strives to discover cohesive forms that use shape and texture to translate feelings, create moods, and invite you to be drawn in. Each piece gradually takes on a life of its own through the stone-carving process, sometimes revealing itself early, and other times not until the final polish. Each work develops its own personality and helps create its own story.
Sue works in many different types of stone and many different themes. She has been sculpting since 1994 when she took a series of sculpture classes at a community college. From there, she began sculpting more, attending stone sculpting symposiums, and networking to learn informally from a network of sculptors. She began working in larger scale stone in 2006 when she started working at her current studio space, the Freeland Art Studios on Whidbey Island. Sue has had her outdoor sculptures displayed in public spaces since 2010 and she continues to participate in art shows and galleries primarily in the Pacific Northwest. Her larger scale outdoor sculpture is most often inspired by beauty and rhythms found in nature.
CONTACT THE ARTIST
This and Other Sculptures are Available to Purchase from the Artist