SUMMARY
Ken Price designed and created this metal bike rack in loving memory of his wife (and the park founder's mother) Pat Price.  He collaborated with local metalsmith Ben Brager on designs that represent Pat's love of the natural world and her volunteering with many Whidbey environmental groups.  She also enjoyed bike riding and being active in the outdoors, so a bike rack formed around her love of nature was born.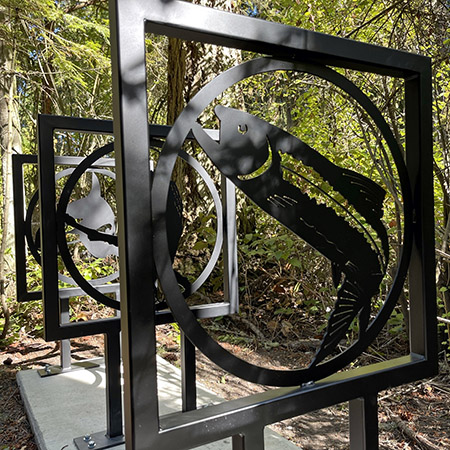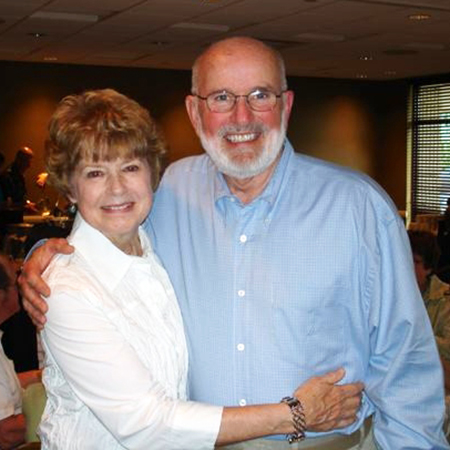 ABOUT THE SCULPTURE
"Because She Loved Them" began from Ken's desire to celebrate the life and positive impact of his wife Pat while also providing something useful for visitors to the Sculpture Forest.  Pat loved protecting our natural environment, the Earth's creatures, outdoors activities, and environmental nonprofit organizations.  She actively volunteered with the Langley Whale Center / Orca Network, Beach Watchers, Whidbey Camano Land Trust, and other groups to support preservation and improvement of the beautiful environment that we have all come to love around Whidbey Island.
The sculpture's images reflects Pat's love for wildlife in general and particularly for orca whales, eagles, and other creatures of the Salish Sea.  The four different designs also included practical design ideas, enabling bicyclists to attach a wide range of bikes to the sculpture at many different points and heights.
ABOUT THE SCULPTOR
Ken Price is a craftsman woodworker who lives in Langley on Whidbey Island.  He has become an incredibly supportive volunteer at the Sculpture Forest, instrumental in the construction of the park since before its opening.  He also created or co-created the natural wood park entrance sign, entry arch, kiosks, and trail signs that can be seen throughout the Sculpture Forest.
Ben Brager is a local metalsmith, also from Langley.  He works with his father Todd at their company Monarch Metal Works.  Their projects include architectural fabrication, marine fabrication, gates, benches, signs, and more.  He also helped create the metal sign posts that are visible throughout the park.
CONTACT
The Artists Offer Other Custom Metalwork and Wood Projects